The appearance of the bathroom depends on a lot of factors and elements, including the color.
Yes, the seemingly unimportant colors can really change the atmosphere and ambiance of a room.
For instance, red is fiery and full of spirits while green is calming and refreshing. Yellow is cheerful and bright while purple is regal and royal.
Different effects can be achieved from such a simple color scheme.
So, which colors should you use for your bathroom and what kind of effect can you expect from it?
See also: How to Decorate a Country Bathroom: Some Simple but Effective Ideas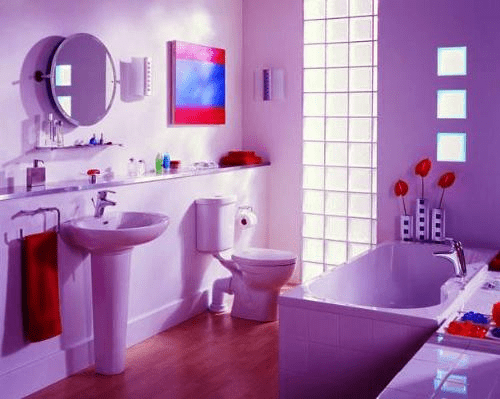 1. Some Possible Examples
There are some great and probably not so ordinary colors that you can try for the bathroom. Here are just some of them:
Cobalt tiles. The entire room is covered in azure tiles with a touch of gold. With gold shower head and the porthole like mirror within the area, the bathroom is definitely amazing and different.
Soft taupe. You can choose neutral colors and yet you don't have to worry that they will make your bathroom look dull or boring. The soft taupe will be just perfect when paired with blue, pinks, and light green – which can be represented through the shower curtain, wall décor, and light accessories. This soft color is just perfect to deliver peacefulness and luxury in a small space.
Pink pops. No, it doesn't mean that you should color your bathroom in bright pink. You can combine the bright pink with neutral color like white. Choose a focal point like the shower and use the pink for the shower curtain. The effect is amazing although done in a simple manner. You can add small details like pink wall décor or pinkish countertop accessories to complete the look.
Besides these colors, there are still more not-so-common colors with a mix of refreshed look, such as:
Ash gray. Just because you choose gray, it doesn't mean that it will be dull. Imagine the combination of concrete and granite and put the color scheme in your bathroom. This is the perfect option for a contemporary bathroom. You can match it with dark wooden floors so the overall look isn't too pale. With dark floor, light wall, and black vanity, your bathroom can be both sophisticated and elegant – and you don't even need to break a sweat for it.
Parchment. The creamy and buttery white color will be perfect if you have a vintage or retro theme. If you want to have a look without turning it into a drab, consider pairing the color with something brighter. A touch of pink for the accessories and metallic accents can really make your bathroom look elegant in the simplest way.
2. The Pastel Options
Pastel colors aren't always designed for women – it isn't always associated with femininity. If you want to have the pastel scheme, consider these options:
Seafoam green. This soft pastel green looks perfect when matched with white and beige.
Sky blue. The soft pastel hue will brighten up the bathroom without overdoing it.
Powdery pink. If the pink is soft and pastel, it is okay to use the pink as the main color. You can match it with white vanity and silvery finish and you can create a perfect balance without making the bathroom look too girly.